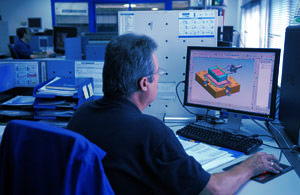 Our technical office is able to design and develop plastic part projects as well as final injection tool, modifications request and maintenance program.

We are designing with UNIGRAPHICS (NX3) and TOPSOLID, and we machine with TEBIS CAM program.

We can translate all kind of native file written in 2D or 3D model.

For data transfer we have different options: e-mail, OFTP (Odette), CD, DVD, USB pen drive support.

All our machines are connected through our Intranet network, we are using SELCA as final specific machine numeric control program in order to give flexibility both to our workers and machines.