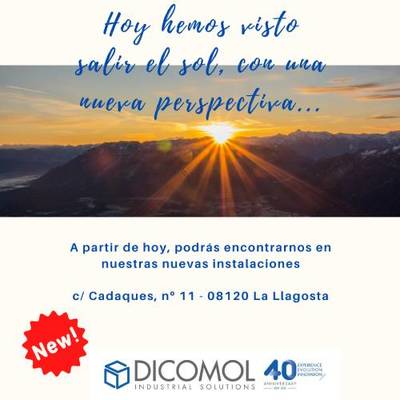 For years we have been convinced of the need to carry out an expansion and / or change our facilities.
We had an extension tool shop in Montcada in "La Ferreria" (2011), later on a project of a new plant construction in "Polinyà" (2016) and finally we found the opportunity with a partner that allowed us to adapt the construction of its building to our needs (February 2019).
What months ago was just a vision, has been taking shape, unfortunately coinciding with the stop of the worldwide economy due to the COVID pandemic situation. Nevertheless within the recent weeks and hot months of July and August, we started the movement of some machines in order to be able in September to start our activity in this new facility. What we have been sharing during months with all our followers it´s now a reality.
With new capacities to improve the service we already offer to our customers and collaborators, increasing space and tool handling capacity, something that recover needs that are leaving our country due to lack of local solutions.
For all of them, we are proud to share with you "WE FINALLY SEE THE SUN RISE" and we will wait for you between "Cadaqués" and "Vic" streets, in the "La Llagosta" Industrial Park.
Looking forward to see you soon!